Souvenirs from Russia, On a Budget
Visiting Russia is worth the memories, so check out these ideas to hold on to those memories without breaking the bank.
Do Your Research
Knowing what you want as a souvenir before you get to Russia will help you find the best quality and price. Russia is known for its nesting dolls, fur hats, and Orthodox icons, among other things. You can find nesting dolls almost anywhere you go, including some grocery stores! If you already have somewhat of an idea of what you want and about how much it should cost, you won't be rushing at the end of your trip to buy the first one you see in an over-priced souvenir shop.
Take Pictures
You don't need a fancy, expensive camera to adequately and beautifully capture your favorite sites. Most smart phones these days are built with pretty good cameras. The less expensive point-and-shoot cameras are also good enough to take pictures for your Instagram, company website, or just for your personal enjoyment. In Russia, you'll want to be aware of where you are and who is around; avoid taking too many pictures of government buildings.
Keep a Journal or Carry a Sketchbook
Some of the best souvenirs I've acquired throughout the years are the journal entries I've jotted down before falling into bed at the end of busy tourist days. You'll never regret looking back at your own words about or your own sketch of what you've experienced in Russia. It is such an interesting country in terms of architecture, dining, and transportation, to name a few of my favorite parts of Russia. Your own record of what you've done and seen is one of the best ways to transport you back to your trip to Russia once you've already returned home.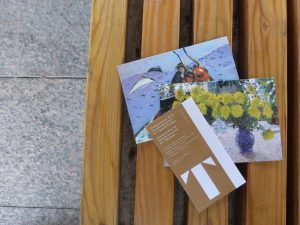 Postcards Are Not As Cliché As You Think
Postcards are a great way to remember what your favorite parts of Russia, while being fairly inexpensive and light-weight for your trip home. Museums in Russia almost always have great postcards, both about their art or history as well as the city they call home. Adding to my collection of art postcards is always a highlight of my excursions in Russia.
Get Creative & Find Free Souvenirs
As nice as it would be to get cool shirts or keychains for free, that's not quite what I'm saying here. While you're going around, seeing all the sites, you'll inevitably be collecting tickets, brochures, and receipts. Those can make some unique souvenirs! Russia has so many incredible museums, so be sure to keep your tickets and brochures to use as bookmarks or just a cool memento. Also, the receipts you'll receive will be in Cyrillic, which makes even a grocery receipt an interesting keepsake.
There are many ways to creatively remember your trip to Russia without spending all your money. These are just a few ideas that I have used in my own travels. What are your favorite ways to record your travels?