What If I Don't Speak Russian?
Getting Around Russia When You Don't Speak Russian: Mobile Resources
Visiting a foreign country with little or no knowledge of the language can be daunting, but if you're willing to make some mistakes and try something new, it can be a rewarding experience. As someone currently living in Russia, I've had several encounters already, both productive and somewhat embarrassing, where knowing a little Russian has helped. However, I am not close to conversational, with just a handful of words and phrases in my repertoire, and I am still able to get around and do what I need to do. The best advice I have is to use the resources available and get ready to possibly ask for help from strangers, so here are mobile resources to consider if you're traveling with a smartphone:
Yandex Maps
This is a free app that allows you to download a map of several of the main cities in Russia. The map can give you routes for public transportation, car, walking, biking, or taxi, and you can save your favorite locations to find again. You can also access the websites of just about anywhere you want to go. The routes give directions, street names, and metro stations in English. This app is a lifesaver!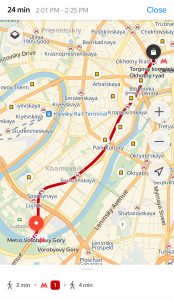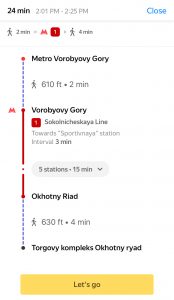 Duolingo
Another free app that, if you have the time to put in, can help you start to read a bit and know a few useful phrases, like "Hello, how are you?" and "Where is the metro?" among other phrases. This will be more helpful if you start using the app every day for a couple weeks before your trip, though it won't be as helpful in the moment you need to talk to someone.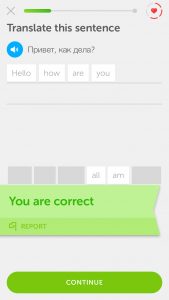 Google Translate
While Google Translate has a reputation of being unreliable, that really only applies to paragraphs of text. With words and short phrases, Google Translate is quite useful. One of the most helpful features is the instant text translation option. This is nice to have in restaurants, museums, and grocery stores. You can also download an offline translation file in the app to use if you don't have a WiFi connection or reception. This is the app to use in the moment you need to communicate because it will play the phrase you want to use.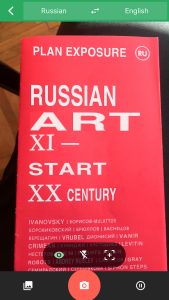 Your App Store!
This one isn't an app I expected to be so helpful. Just browsing through the travel app category has helped me to find apps that know where I want to visit, want to eat, and can afford to stay when the websites themselves sometimes don't have an English option.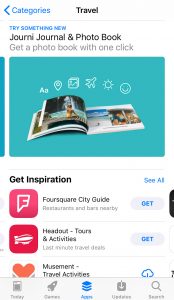 Be Brave & Talk to Strangers
Sorry, this one is not a mobile application, but something you'll have to come up with on your own. While traveling, t's more likely than not that you'll be presented with a situation that technology can't solve for you. I have found that most Russians on the street are willing to help you if you're polite.
Living in a world practically run by technology can be one of your greatest assets when visiting Russia. What are some of your favorite apps and resources when traveling abroad?