How to Get a Tourist Visa to Russia
How to Get a Tourist Visa to Russia
I often hear friends and relatives mention how exciting and memorable their recent trip to Europe was. They somehow manage to visit upwards of a dozen destinations in a small window of time. When I ask why they didn't "swing by" breath-taking Saint Petersburg or Moscow the Megalopolis, they usually respond with something like, "Well, we really wanted to. Then, umm, we found out that we need a visa. So, it just didn't work out."
It's a pity, really. A sense of disappointment can be heard in their voice. I feel for those of you in this situation. We all have our precious, limited time off from work or school; it's a chance to get away and we are forced to choose between so many wondrous places. Russia is, indeed, an intriguing travel destination, but, for many, the visa process to Russia can be the deciding factor that rules out a trip to the historically-rich land of the Rus. Although I don't possess the powers to make the visa requirements magically disappear, I'm happy to share with you some advice and tips about obtaining a visa to Russia that, hopefully, helps you make the right decision to finally visit Russia, the Motherland.
Taking a new step, uttering a new word, is what people fear most.
– Dostoyevsky, "Crime and Punishment"
GATHERING AND PREPARING DOCUMENTS
For most visitors, getting a tourist visa to Russia is quite straight-forward as it turns out. Although documents to submit, fees, processing times and other requirements depend on your citizenship and the country you're applying in, applicants mainly need:
A tourist invitation/tourist voucher/tourist confirmation letter
Filled out, printed out and signed visa application
Passport photo
Original passport
Payment for visa application (Russian consulate & visa processing fees)
Did you know that getting a visa to Russia is much simpler for US citizens than it is for Europeans or citizens of other countries? For example, citizens of other countries are requested to show proof of medical coverage throughout travel in Russia, reservation of accommodation, purchased airline tickets and/or other supporting documents. So, if you're a US citizen, the visa process has never been easier. Also, Russia allows ONLY US citizens to obtain a 3-year tourist visa while citizens of other countries can apply for a tourist visa valid only up to 30 days.
Let's take a look at what an American will need to show to get a visa and the time it'll take to complete.
Tourist Invitation or Travel Voucher
This is sometimes called a tourist confirmation letter but they are all the same single document. It is provided by a registered tourist company in Russia. It takes less than 10 minutes to order online for less than $20. All you'll need is your passport information, dates of travel and an address of where you'll be staying, probably. You don't even have to show confirmation of a hotel booking. Get one here for just $15, regardless of the number of entries to Russia.
This is found here. If you have your passport information, employment, educational and travel history along with the tourist invitation from above, you'll be able to fill this out in less than 30 minutes.
Stop by your local print shop, Costco, Walgreens or wherever else and get it done within a few minutes for just $5-$15.
I assume you already have a passport considering you are planning to take a trip abroad. Depending on how long ago your last trip was, locating it may take longer than all the other steps. I hope not though.
Fees to Russian Consulate/Visa Center
Stop by your local bank and get a money order or cashier's check within 15 minutes. As a customer, your bank should do cashier's checks at no cost. Some of you can do this right within your online banking accounts.
So, $35 poorer and having lost a bit over an hour of your time, you will have gathered everything you need to apply for a visa to Russia. Obviously, I'm not factoring in the time you need to drive to the bank, park, check your social media, wait in line and check your hair before the passport photo. The point I'm trying to make is simple – getting a visa to Russia is not nearly as daunting a task as you may think.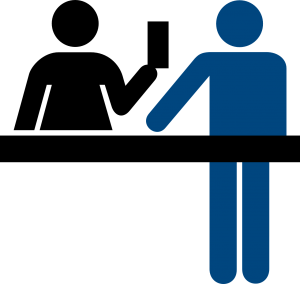 SUBMITTING YOUR DOCUMENTS FOR A VISA
Once you've got all the necessary documents gathered, you have a few options. You can apply at a visa center in person, apply by mail yourself or use a visa agent. You have the choice of what fits you best. It's no doubt that LetsRussia's full visa submission service is the best value, of course. However, we won't get offended if you live close enough to the visa center (Houston, Seattle, San Francisco, New York, or DC) and want to submit your documents for a visa yourself to save some money. I'll even explain how to do it AND you'll save the $85 mail-in fee.
1. Apply in person at one of the official visa centers (ils-usa.com)
This is a great option if you live close enough to a visa center because you can save $85. However, I must warn you that you may get frustrated if you miss some detail in your documents and have to return a second time. Due to the closures of the Russian consulates in San Francisco and New York, they may charge you an additional fee to send to DC anyway. ILS in SF charges a $45 fee so in the end you're only saving $40 if you apply in SF in person. I'm not sure that's worth your time if you live more than an hour away and work a day job, especially considering the fact that you'll have to return at least once in order to pick up your passport with your new visa.
2. Apply by mail to one of the official visa centers (ils-usa.com)
If you can't make it down to a visa center yourself, you can apply by mail for an $85 fee. This, however, does not cover any corrections in the visa application or additional services. It's not uncommon for first-time visa applicants to make minor mistakes in the visa application. ILS states on its website that it charges an additional $30 fee for correcting any mistakes you make in the visa application. If you're applying as a group, they won't give any discounts either.
3. Apply through a visa agent like LetsRussia
I've saved the best option for last. There are different visa agencies to choose from but none of them offer the value that LetsRussia does. LetsRussia also offers generous discounts on submitting multiple applications at the same time if you're part of a group or you are traveling to Russia with your family.
Our full visa submission service includes:- visa application completion (guiding through the process, screening for mistakes, making corrections)- delivery and submission of visa application and your documents on your behalf- updates on application process (received by mail, submitted to visa center, picked up, mailed)- Return 2-day delivery with tracking.- unlimited consultations/answers to questions about your trip, the visa application process and others… So, next time you're planning a trip around Europe, don't miss out on the chance to hop over to Saint Petersburg or Moscow. You won't regret it. I promise. And if you don't make it, you won't be able to say, "I didn't know how to get a visa to Russia." Don't blame the visa process.